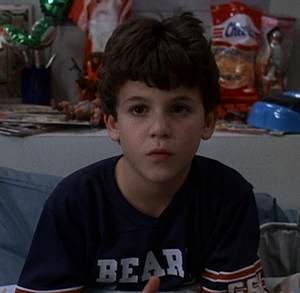 The story of The Princess Bride is framed in the film with a grandfather reading his favorite book from his childhood to his sick grandson.
In the beginning of the film, the grandson is playing Hardball on his Commodore 64 when his mother tells him that his grandfather is coming for a visit. The grandson is less than thrilled because his grandfather often pinches his cheeks.
The grandfather presents the grandson with a present, which turns out being a book. The grandson is skeptical at first, but is more and more captivated as the story progresses.
He refers to it as a "kissing book", but soon becomes hooked as the story unfolds.